You are here:
Home
»
Discover Ladner
» Nine Things You Can Expect at This Year's Quilt Walk & Car Show
Discover Ladner
September 26, 2016
Discover Ladner
Nine Things You Can Expect at This Year's Quilt Walk & Car Show
The Ladner Business Association's 12th annual Quilt Walk and Car Show kicks off on Sunday August 21st at 10am-4pm. Thousands are expected to flock to Ladner's Historic Village this weekend to admire the many intricate quilts and spectacular vintage cars on display.
With this year's event set to be bigger and with more things to do and see than ever before, we have compiled a list of nine things you can expect at 2016's Quilt Walk and Car Show. You will not want to miss it!
1. Quilts
The shops along 48th avenue are expected to be a temporary home for the hundreds of colorful quilts that will be hanging on display. Feast your eyes on even more mixtures of patterns and colours as this year's quilt walk is expected to be even bigger due to plans to spread the location of the quilts to a variety of new spots.
photo: Clair Oates
2. Live Performances
Live music will not be in short supply. You can expect to be entertained while listening to live performances by The Lounge Hounds as well as The Deep Cove Big Band. Prepare your ears for some awesome music.
photo: Rjballan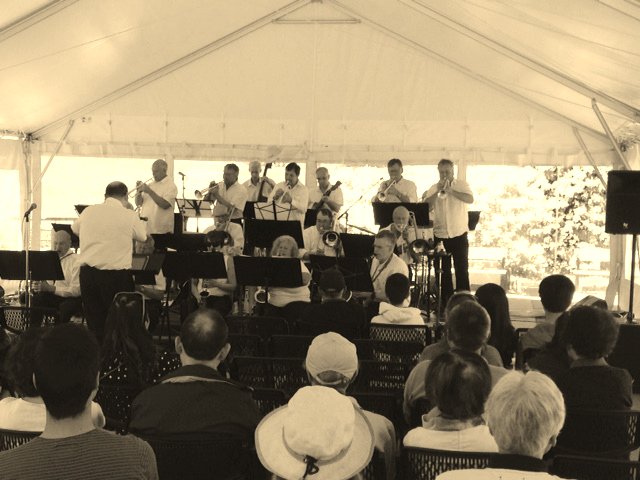 photo: Dan Mellor
3. Beer Gardens
Bring on the beer! Stop by the craft beer garden located in the parking lot of Sharkey's Restaurant on Chisolm Street. There will be a variety of delicious craft beers to choose from so come thirsty.
photo: Four Winds Brewing Co.
4. Taco Eating Competition
Ladner's own Four Winds Brewing Co. will be presenting the first ever taco-eating competition. Set to take place at the beer gardens, the contest will feature 8 hungry contestants who will feast on as many tacos as they can eat for 5 minutes. This new event is set to be a real crowd-pleaser and should not be missed.
Photo: Four Winds Brewing Co.
Photo: Four Winds Brewing Co.
5. Food Trucks
One word to describe the food trucks that are expected to serve up some chow? YUM. Indulge in the most mouth-watering food from some of the finest food trucks in the lower mainland. From hot dogs to popsicles and everything else in between, your diet can start on Monday.
You can expect to see: Zee's Grilled Cheese, Eli's Serious Sausage, Johnny's Pops, C'est Si Bon, Old Country Perogi, and more!
6. Pin-Up Competition
The ladies will be wearing their vintage-inspired Sunday best at the pin-up competition beginning at 12:30pm. You'll feel as though you stepped back in time as you witness the girls walking past the retro cars as these ladies would have given even Betty Paige a run for her money.
photo: DixiedPinup
7. Retro Vendors
Don't go home empty handed. A number of nifty vendors are scheduled to set up shop and are selling a variety of interesting trinkets and collectables. From My License Plate Art to Steveston Tattoo Company, these retro and vintage-inspired vendors are sure to be a hit.
photo: Kyle Johnson
8. Community
Like every year, you can expect to see many smiling faces and automotive-enthusiasts walking amongst the cars in Ladner Village. While Ladner locals are expected to flood the streets, competitors and spectators have come from all over the province to share their appreciation for Quilts and Cars. Like always, this event will surely be fun for the entire family.

photo: _insta.yoshi
9. Cars
Of course, come to a car show and you can expect to see cars – hundreds of them! Ladner is set to welcome close to 400 classic cars and motorcycles. You will be oohing and aweing over all of these retro automobiles as soon as you lay your eyes on them.
photo: Jerris P
Photo: Stefan G Effke
The 2016 Quilt Walk and Car Show is expected to be better than ever. The event begins at 10am until 4pm in the Ladner Village. For more details visit www.quiltwalkcarshow.com. We hope to see you there!
See what other businesses in Ladner are up to and check out:www.ladnerbusiness.com
Follow us on Facebook & Instagram @DiscoverLadner and use the hashtag #DiscoverLadner for a feature.
---
Did you know that $0.84 from every dollar spent locally ends up back in the local economy? That is compared to only $0.16 from the big national retailers. Please join us in shopping Local and supporting local business.
If you have any questions or comments regarding the Discover Ladner initiative (or if we have missed one of your favourite nature spots) please email us atdiscoverladner@ladnerbusiness.com